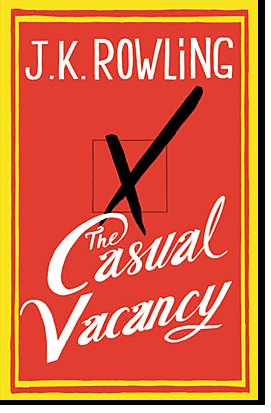 Ick.  Have you ever seen a more Muggle-ish turn of events?  Here is the newly released cover for Rowling's "adult" book, The Casual Vacancy.
Look, there are authors I love, and there are filmmakers I adore, but I don't go to see every movie they make or read every book they write simply because they created them.  The work still has to entice me in some way, and I see nothing of interest in The Casual Vacancy.
Maybe that's the point.  I'm sure that's the point.  J.K. Rowling wants to avoid being typecast so she wrote the least Harry Potterish book she could .  I guess that makes sense in some ways.
Nonetheless, I can't stand the idea that she's allowing this to be promoted as her 'adult book.' Unless it was a real adult book (in terms of graphic sex and plenty of it), there's no reason to call it adult simply because it deals with a non-magic story.  It's annoying and aggravating.
I won't be picking it up–not because I'm offended but because I have no interest.