When I was an ignorant pre-teen, I loved Star Wars and hated Star Trek.  When people confused me for a Star Trek fan it always infuriated me.  Then a teacher forced me to watch "Darmok."  Hmmm, I thought as it ended, I was very, very wrong about this Star Trek.  Today there are few things I like watching/hearing more than Picard's retelling of the Gilgamesh tale:
Lately, I've been thinking more and more about this episode and its relation to Internet culture.  "Darmok" centers on Picard's troubles with understanding the Tamarian language, which Memory Alpha describes as follows:
The Tamarians speak entirely by metaphor, referencing mythological and historical people and events from their culture. As a result, Federationuniversal translators—although they can successfully translate the individual words and sentence structure—are unable to convey the symbolic meaning they represent.

For example, instead of asking for cooperation, they would use a phrase such as "Darmok and Jalad at Tanagra", because their culture's stories include a tale of two Tamarians, Darmok and Jalad, who were brought together while fighting a common foe on an island called Tanagra.
The Internet is changing the way we think.  One of the ways I think it's changing us is linguistic. In a way, I feel it's making us all Tamarians.  Take reaction gifs and memes.
Reaction Gifs
I love the subreddit devoted to reaction gifs.  To me, there's something very Tamarian about it.  Here are some recent examples of posts there:
Title: When my wife's crazy friend comes over, and acts like she owns the place.
The Gif:

What we have here is a piece of story standing in for a feeling.  If this gif were to be used frequently enough to express frustration at unwanted intrusions, I could give it a linguistic form–a Tamarian form.  So, for example, detested in-laws might drop by unannounced and spouses could say to one another, "Pongo and Roger, huffing and puffing!" and they wouldn't need say anything more than that to let it be known what they're feeling.
Each of these recent posts could also become Tamarian words/phrases:
Title: My mom, walking in on my private time as a teen
The Gif:


The Tamarian Translation: Snow White in the forest, running away.  (Meaning: A moment when you are overcome with a mixture of shock and fear).
Title: When I see my little brother playing with my old toys
The Gif:


The Tamarian Translation: Bilbo when the madness took him.  (Meaning: Someone does something they wouldn't normally do but couldn't help but do).
Title: When I am in a pool and I swim through a suspiciously warm area.
The Gif:


The Tamarian Translation: Carl Winslow, his eyes round and round.  (Meaning: A dawning feeling of awkwardness, disgust and pure discomfort creeps over you).
Memes
I feel the same way about memes.  In fact, I can say that some memes have already started working in my mind in a very Tamarian way, to the point that when I feel the concept behind the meme, I think of the image first and the appropriate words second.  This has mainly happened with the Futurama Fry meme.
Here's a pretty typical example:
Truthfully, now when I get that "not sure if" feeling, I usually think of this meme first.  It's to the point where if I'm truly stumped by something (I'm not sure if I want to eat more or if I just feel like I have to finish what I bought), I'll say, "Here's that Fry meme again."  Or I could just say, "Fry, his eyes narrowed."
When something like the below happens to me now, I usually just say, "Here's a good first world problems meme," rather than actually describing it: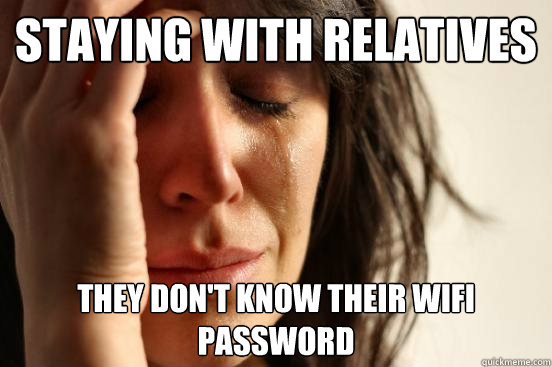 Obviously, the memes/gifs themselves are not examples of a real world Tamarian language.  Tamarian is still linguistic, and the memes/gifs are visuals.  But what I'm trying to say is that these visual shortcuts are making us think more like Tamarians.  Rather than expressing things in a string of words, we are seeing the small narrative moment that encapsulates the concept we are experiencing.  When I have a first world problem I see: The rich girl, a tear streams down her face.  When I'm genuinely stumped by two options, I see: Fry, his eyes narrowed.  If we moved from seeing the meme in our minds to saying the meme as a shortcut expression of what we're feeling, then I think we've arrived at something Tamarian.
I always thought that despite how clever and well-crafted "Darmok" was as an episode, the Tamarian language was pure fantasy.  It would be impossible for people to actually use it.  But here we are, getting closer and closer to incorporating something that while not exactly Tamarian, feels like it's within the same ballpark.
As a writer, I have no problem with it.  I'm a language realist, meaning I try not to say "this is proper English" because I learned it that way during the two decades when I was in school. Language is always evolving, and if this is a peek at where we are headed, I just find it…intriguing.
What do you think?