There's a wonderful scene in Joyce's Ulysses where the hero, Leopold Bloom, goes to the bathroom.  It's detailed, shows us a great deal about the whimsy of the character, and is utterly startling, forcing me to ask a number of questions:
How many authors have even mentioned that their characters use the bathroom?
How many characters have been depicted going to the bathroom in literature?
How many characters do we need to see going to the bathroom in literature?
I think the answer to question three is "not all of them," but I find that the more I write the more I feel like not touching upon these basic experiences (in some fashion) makes for unbearably thin characters.
My characters sometimes feel like a collection of quotations and physical descriptions but not like living breathing people.
Would throwing a bathroom break into a scene bring them to life adequately?  No.  But thinking about the details of everyday life that can ground a character from the free-floating ether of dialogue and general description is a worthy writing exercise.
Here are some of the everyday experiences and grounding details that can help give your characters more life:
Food Weirdnesses
One of my favorite conversations I have with people involves eating habits.  I find that wherever I go people (1) eat food in combinations that I wholly detest and (2) these same people would defend their food habits to the death.
Let's take an example of food choices that I hate, hate, hate:
People who drink milk when eating spaghetti (particularly spaghetti with a tomato based sauce)
People who allow their desserts to touch their dinners.  I can't tell you how many people at college would throw a brownie right onto their dinner plate.
People who pour syrup on breakfast meats (I'm entirely with Scout Finch when she makes fun of that boy for putting syrup on meat.  Atticus was wrong on that one.)
Characters should eat.  Unless you're writing a fantasy story in a world where sustenance does not exist or is unnecessary, this is essential.  But just describing good food as being enjoyable and bad food as being gross isn't enough.
Giving characters serious, passionate opinions about food can make for humorous moments in the narrative and can ground your characters.
Hygiene & Bodily Contortions
I get chills at weird moments throughout the day.  It's just one of those things I do.  I could be having a perfectly serious conversation and then *boom*–chills.
As an educator, I once had a student who always held onto her earlobe while reading.  Not picking it, just holding it, kind of tugging on it.
I love talking to people who pretend that when they squeeze their nostrils together mid conversation and pull that they're getting away with a non-pick nose pick.  It's still a pick.  I can tell.
I know people who insist that it is ridiculous to brush your teeth before bed.
I have been trying to figure out ways around floss for most of my life.  Right now I have some kind of cross between a flosser and a toothpick, but I think if I just figured out real floss I'd do better.  I love that both Larry David in Curb and Willow in Buffy defend their goodness as human beings by explaining how faithfully they floss.
One of the best student stories I ever read was about a girl who couldn't swallow pills.  It was a great everyday detail worthy of exploration.
We all have these little habits in abundance.  Characters should too.
Sleep Habits
I remember listening to some of the behind the scenes interviews about Lord of the Rings, and most of the cast members remarked on Elijah Wood's incredible ability to fall asleep anywhere in any position.
I love hotels but hate hotel pillows.  It's a constant struggle for me: I'm in a luxurious room that I've spent a lot of money for but these pillows feel like bowling balls.  It ruins me every time.
My cat frequently wakes me up by slapping me in the face with his paw.
My brother used to sleep exactly like Sid in Toy Story: head down, back arched, butt in the air.
My parents can fall asleep watching anything on their couch but apparently can't get to sleep once they go to bed.
Characters don't just go to sleep, and they don't just toss & turn: mix it up.
Gaits, Runs, and Posture
I love the moment in the original Spider-man where M.J. tells Peter that he looks taller than she remembers.  "I slouch," he explains.  "Don't," she replies.  It's a perfect way of saying something without saying it.
People love to comment on how others walk, run and generally hold their bodies.  When I ran track and cross country, I loved seeing the different ways people ran.
Some always ran like they were Superman on their way to save people from a burning building, with clenched fists and exaggerated arm swings.
Some ran with their heads face down the whole way, their bodies scrunched together tightly.
Some practically skipped.
I love how Jan Brady walks with her hair swaying back and forth like a swing.  (Best seen in the tongue-in-cheek movie versions).
Any kind of distinct movements you can give your characters will help your reader visualize them and will give them personal associations.  If I give any character a Jan Brady walk, I'll know exactly what to picture.
Embarrassments & Worries
I am not on board with the whole 'having conversations in public bathrooms' thing.  I tell my friends at work that if they see me going into the bathroom they are to turn around and wait. It's not gossip time; it's leave me the hell alone time.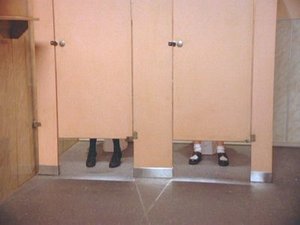 I know people who get extremely embarrassed and offended if you ask them for a sip of their drink and then wipe off the bottle before sipping (but not after).
I never know whether or not it comes across as rude if I take one of those supermarket barriers and slam it down after I've loaded all my food onto the belt.  Does the person behind me think I don't trust them with keeping their food separate from mine?
I think my least favorite moments of living involve me walking down a hallway, seeing a person I vaguely know walking towards me, and spending a good ten–agonizing–seconds determining whether or not I will say 'hello,' how I'll say it, and whether I'll stop or keep going.
All people are odd.  Characters should do odd things even if they are not your 'odd characters.'
How do you ground your characters?  Any of your own oddities that you can add to the above examples?