I have always liked J. K. Rowling's system in the Harry Potter novels of sorting school children into houses based on their personalities.  I know I'm not the only person who has sat around trying to sort myself and my friends into each of the houses.  (There are probably a million "which Hogwart's House to you belong in?" quizzes bouncing around the internet).
But why stop with real people?  Where would fictional children from books and movies fit into the Hogwarts House system?  Last week I posted a survey on Reddit and Twitter asking participants to sort 29 fictional children from literature, movies, and comics into each of the four Hogwarts Houses (note: I limited the selection to children who'd be more or less of age to receive a letter from Hogwarts).  Below you'll found a breakdown of the most intriguing results, followed by a link to the full results (in bar graph form).
I gave the following guidelines for the defining characteristics of each House:
1. Gryffindor: values courage, bravery, loyalty, nerve and chivalry.
2. Hufflepuff: values hard work, tolerance, loyalty, and fair play.
3. Ravenclaw: values intelligence, creativity, learning, and wit.
4. Slytherin: values ambition, cunning, leadership, and resourcefulness.
After getting 228 responses, the results are in.  Some of the results were predictable, but there were more than a few surprises.  Here's a summary of some of the trends:
The Standard Bearers
There were clear frontrunners for every house.  These are the characters who were voted as almost unanimous representatives of particular houses:
1. Lisa Simpson – Ravenclaw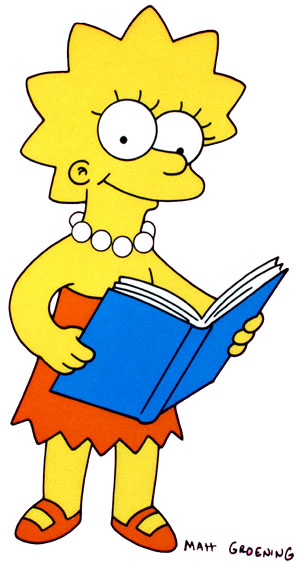 2. Arya Stark – Gryffindor
3. Christopher Robin – Hufflepuff
4. Wednesday Addams – Slytherin
This is not surprising considering these characters embody the most basic and un-nuanced qualifications of the houses: Ravenclaws as smart, Gryffindors as heroic and bold, Hufflepuffs as loyal, and Slytherins as…well…evil (at least according to common perception).
But some of the other characters who received clear-cut houses were a bit less obvious.
Disputing Some of the Results:
Rue was voted into Hufflepuff, a house known for hard work, tolerance, loyalty, and fair play.  Yes, Rue was loyal to Katniss, and I guess we can assume she may have had the other characteristics, but those traits aren't showcased much in the novel, so I would have pegged her more for a Gryffindor.
Gryffindors, like Hufflepuffs, are known for their loyalty, but additionally for courage, bravery, and nerve.  Rue was pretty nervy with her trackerjacker plan, and she was definitely a courageous little kid.  It was surprising that Gryffindor wasn't even the second most-popular choice – it was only a distant third.
2. Wendy from Peter Pan
Another surprise was that a majority of participants placed Wendy into Hufflepuff instead of Ravenclaw.  I can see how, probably thanks to the Disney movie, Wendy comes across as a bit of a do-gooder without much charisma.  Maybe according to a layman's
understanding that qualifies her as a Hufflepuff, but the Sorting Hat makes it clear that a defining characteristic for Hufflepuffs is faithfulness:
"You might belong in Hufflepuff,
Where they are just and loyal,
Those patient Hufflepuffs are true
And unafraid of toil;"
And in terms of faithfulness, Wendy is lacking, considering she may be the first child ever who was willing to leave Peter to get out of Neverland.  I would have pegged her more as a Ravenclaw – clever and independent in a Luna Lovegood kind of way.
3. Young Anakin from The Phantom Menace
And finally, poor "young Anakin Skywalker from The Phantom Menace" (as the survey question very specifically phrased it!), was overwhelmingly sorted into Slytherin.  He only received half as many votes for placement into Gryffindor, which, based on the numerous feats of heroism and chivalry he performed throughout Episode 1, doesn't seem fair.
I think we can chalk this one up to people assuming the Sorting Hat can predict Anakin's future Slytherin-esque ambition and cunning.  Nonetheless, I'd say that given just what we see in Episode One, we'd have to tag young Anakin as a Gryffindor.  Lucas goes out of his way to make Anakin seem good, brave and heroic; he's not depicted as a Draco Malfoy or a young Tom Riddle is.
Too Close to Call
J. K. Rowling made a point of showing that some people from Slytherin were not all that different from those sorted into Gryffindor.  Harry was very nearly sorted into Slytherin, and ultimately Snape's courageousness and loyalty made him just as much of a Gryffindor as a Slytherin (as Dumbledore later notes).  Two of the fictional children from this survey helped prove Rowling's point:
1. Calvin from Calvin and Hobbes
2. Kevin from Home Alone 
Calvin ended up with only a handful more votes for Gryffindor than Slytherin, and Kevin ended up with only a handful more votes for Slytherin than Gryffindor.
Both characters are certified mischief makers and fit into stereotypical "boys will be boys" clichés, which suggests that a nearly equal mix of Gryffindor and Slytherin traits is a tried-and-true recipe for creating likable but devilish male characters.
Interestingly, no girls from the survey hit this Slytherin/Gryffindor sweet spot.  Even female characters with a little bit of mischievousness, like Arya, Lyra, and Lilo, ended up with very few Slytherin votes.
I'm not sure what to make of this.  Some questions:
Is it hard for writers to give girl characters the same level of  deviousness they give boys?
Do readers and audiences just have a blind spot for the Slytherin characteristics already written into mischievous male characters?
I'd love to hear your thoughts on this and your general reaction to the survey results.
The Complete Results
Click below for the complete results of the survey (or click on the Sorting Hat!).  Thanks to all who participated!
Survey Results for Sorting Fictional Characters into Hogwarts Houses
Did any of the survey results surprise you or make you think about a character is a different way?