Making up a fictional language has been a science fiction/fantasy staple from the start.  Lovecraft did it, Burroughs did it, Verne did it, and now, thanks to the audiocentric mediums of TV and film, it has become even more essential to the genre.  Creating a few memorable foreign phrases or even a whole language becomes a way for SF/F writers to lend authenticity to the foreign, futuristic, or nonhuman cultures they need to sell to readers.  There are dozens of these semi- and fully-developed fictional languages out there, but a few of them have specific words and phrases that sound so good and are used so well that they deserve special recognition.  Below are twelve words/phrases that are so perfectly cromulent they ought to be part of everyday life.
1. Ka-tet – High Speech for "one of many." (The Dark Tower)
Ka-tet, like most of the words in Stephen King's fictional language in The Dark Tower series, has more than just a literal meaning.  Ka refers to destiny; and tet describes a network of individuals united by similar goals, so overall the general meaning of the word is "the place where man's lives are joined by fate."  That's a pretty neat word with a pretty momentous definition.  I hope to have a moment in my life in which I'm united in a quest with other likeminded people and stop and think, "Hey, this is my ka-tet!"
2. A Elbereth Gilthoniel & Aiya Eärendil Elenion Ancalima! — The invocation of the Elves in Times of Great Need (LOTR)
The first phrase begins the hymn that is sung early on in Fellowship.  It's followed by one of the most beautiful lines of Sindarin: "silivren penna miriel."  I think, however, that my favorite iteration of this hymn occurs when Sam is possessed in Return of the King and calls out for Elbereth Gilthoniel.  While Sam invokes Elbereth, Frodo invokes Eärendil in The Two Towers and activates his gift from Galadriel.  Of all the amazing lines of invented language in Tolkien's writings these are the two that I find myself most wanting to say.  Over and over again.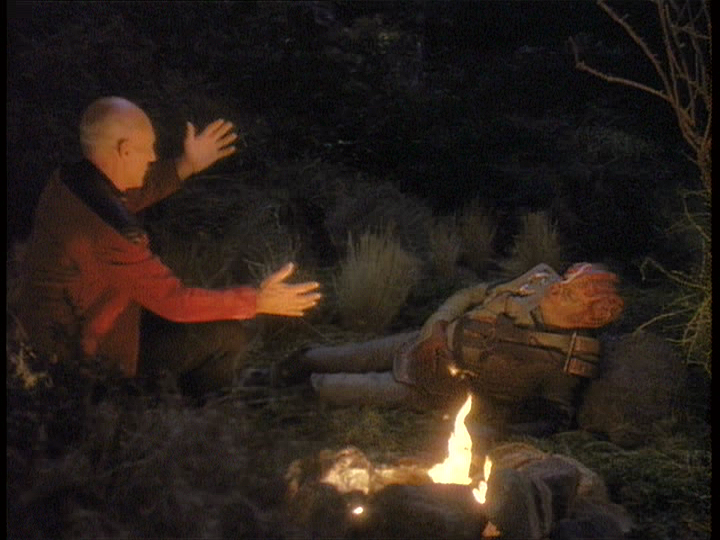 3. Darmok and Jalad at Tanagra — Tamarian for "cooperation against an enemy leading to mutual understanding and friendship" (Star Trek: The Next Generation)
This phrase represents one of the great linguistic moments in all of speculative fiction.  I don't think I'm capable of watching "Darmok" through dry eyes.  The Tamarian language (which is based on communicating through narrative metaphors) is not nearly as developed as Klingon, but I'm far more intrigued by it as a concept.  I'm not sure it could work as an entire linguistic system, but it makes for a great episode of television.  I don't think any adaptation of the Gilgamesh epic could top Picard's voice by the campfire.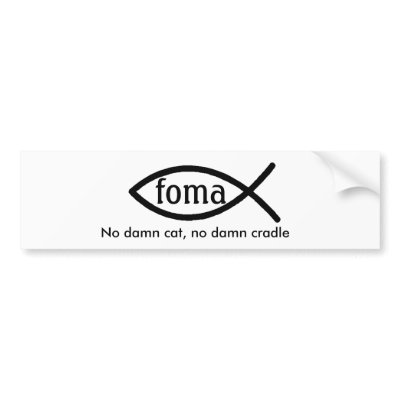 4. Foma – Bokonon for "harmless untruths" (Cat's Cradle)
Kurt Vonnegut included the word foma as part of the wisdom of the made-up religious text, "Books of Bokonon" in Cat's Cradle through the proverb, "Live by the foma that make you brave and kind and healthy and happy."  Clearly a commentary on religion, the concept of foma is particularly useful because it doesn't have the negative or positive implications of other words that might have been used as substitutes — like "lies" or "beliefs."  And there is something so perfectly descriptive about how the word foma sounds like "foam."  The association of something as impermanent and un-solid as foam with the concept of suspension of truth through religion is a brilliant way of giving the both the made-up word a deeper meaning and Vonneget's critique of religion a deeper meaning along with it.
5. Khal/Khaleesi – Dothraki for "King/Queen" (Game of Thrones)
How could I not include this one?  These words were awesome sounding and looking in the books, but on the TV show, embedded in the entire language linguist David Peterson crafted out of snippets from Martin's novels, the terms Khal and Khaleesi really came alive.  The "Kha" at the beginning evokes "Khan," thereby connoting royalty merely from the sound, but the way the actors in the drama pronounce the words with such deliberateness makes it even more regal.  I have to admit I'd be insulted if someone called me a princess, but I'd take no offense to being called Khaleesi…it's just that awesome.
6.  Grahzny bratchny – Nadsat for "dirty bastard" (A Clockwork Orange)
When literary critic Stanley Edgar Hyman created a glossary for Anthony Burgess's teenage nadsat vocabulary he ended his introduction with the statement that nadsat "has a wonderful sound, particularly in abuse, when 'grahzny bratchny' sounds infinitely better than 'dirty bastard.'"  He is absolutely right.  The Russian-sounding phrase is so crotchety and guttural that it's exactly the type of thing one takes pleasure in uttering under one's breath when someone cuts you off at the supermarket.   The fact that most people will have no idea what you're saying only makes it better.
7.  Kyrumption – Pylean for "when two warriors meet on the field of battle and recognize their mutual fate" (Angel)
Angel and his friends are introduced to the word kyrumption when they go to save Cordelia from the hell dimension Pylea.  Used to describe the spark between two strong leaders/fighters, kyrumption's meaning is also stretched to include the romantic magnetism of these two warriors.  As we've learned from other SF/F arcs, like the Adama/Roslin arc in BSG, if two powerful leaders respect each other, there's a good chance they'll be drawn together and end up romantically involved.  There's not much they can do to avoid it.  As Angel's pal Lorne would say, "Can't fight kyrumption, cinnamon buns."
8. Die Wanna Wanga — Huttese for ??? (Star Wars)
There are a lot of Huttese phrases from Jabba's palace that enter my mind/mouth at random moments ("Bo Shuda") but my favorite is Bib Fortuna's greeting.  I always assumed it meant "What do you want?" but the Internet doesn't seem to have come to any consensus on its meaning.  It doesn't matter.  This one gets points solely for being fun to say.  Honorable mention goes to the phrase Jabba utters when sending for Leia (Bring her to me!) which I always hear as "Cone lay at nai" but the Internet somehow transliterate as "Koose cheekta nai."  I frequently ask friends (who would understand) to "Cone lay at nai" things over to me.
9. Frithrah – Lapine exclamation translating to "the lord Sun" (Watership Down)
The rabbits from Watership Down associate the sun with their creator deity, so for them frithrah is equivalent to our exclamation, "by God!"  It's fun to say, especially when you think about it being uttered by cute little bunnies facing seemingly inevitable doom.  Extra points to anyone who uses frithrah and Grahzny bratchny in the same insult.
10. Dovie'andi se tovya sagain. – Old Tongue for "it's time to toss the dice." (The Wheel of Time)
After Mat Cauthon was released from the dagger he began occasionally speaking this Old Tongue phrase, especially before battles.  It's a brave little quote that, though it looks hard to say, is actually pretty catchy.
11.  Gahanka – A word in the Troll language refering to the troll war beat, made by pounding clubs against the ground in unison, and gradually speeding up. (Discworld)
Gahanka is like the kiss of death.  As we learn in Thud, if you hear it for ten minutes you're dead.  It's a great word – nice and percussive just like its meaning suggests.  Though I don't see much practical use for the word in real life, the word consistently pops into my mind when I'm about ten minutes away from losing my patience with someone.  If only we all had gahankas of our own to warn those that annoy us that they're treading on dangerous ground.
12. Tsaheylu – Na'vi for "a bond/neural connection" (Avatar)
In the film Avatar, almost every living creature on the planet Pandora has a little hair braid/tail thingy it can connect with another living creature's to achieve tsaheylu.  A little bit sexual and a lot bit spiritual, the tsaheylu connection is the way these animals understand and truly "see" each other.  The concept is neat and the word is pretty cool sounding too, with its sonic proximity to "the halo" adding to its spiritual undertones.